About Our Museum...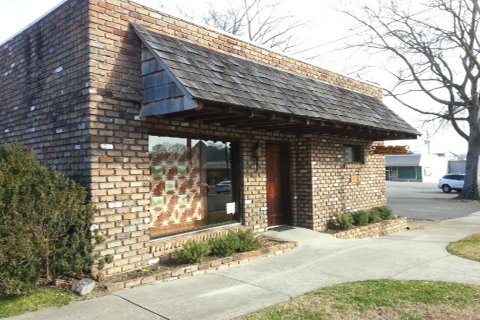 The people of Blount County are justly proud of their heritage and the part their ancestors had in the forming of the State of Alabama. Historically, the area was hunting territory for the Creek and Cherokee Nations. Following the Creek Indian War, some of Andrew Jackson's army returned to settle here. They were joined by South Carolinians shortly afterwards. Today, it is known as the covered bridge capital; at one time there were numerous such bridges in the county. Sadly, time and mischief have reduced the number to three bridges today. There is an annual covered bridge festival, which has become a major showcase for the county.

The museum isn't large, but there's a lot to see. There is a large collection of Blount County family records and genealogies, and knowledgeable family researchers are available. The museum is conveniently located just south of the Courthouse in Oneonta. The Museum hours are 8:00am until 5:00pm, Tuesday through Thursday.

The Museum building itself is constructed from old brick from Howard College (now Samford University) in Birmingham, and is dedicated to the memory of Blount Countians who served in our country's wars. The museum is an opeb resource center for local and visiting genealogists. There are sections for Alabama history, family histories, cemetery censuses and obituaries, early maps and manuscripts, as well as school and church records. There are also a variety of publications on Blount County history and other items that are for sale to the public.
There are genealogists/family historians available at the museum. While they don't claim to know everything about everybody, they can provide assistance and suggestions to our patrons who wish to learn more about their heritage and families.
The Museum is open Tuesday through Thursday from 8:00 A. M. until 5:00 P. M. We're located on the south side of the same block as the Courthouse in Oneonta (204 2nd Street North).For additional information, please call 205-625-6905 or email the museum
---
Bear Meat and Poke Salat...
Blount County lies in the northeastern section of the state. It is bordered by Cullman, Marshall, Etowah, St. Clair, Jefferson and Walker counties. Blount County has a rich and varied history, beginning with its inception in 1818 when it was first created within the Territory of Alabama.It was chartered by the territorial government two years before Alabama was admitted to the Union as a state. It is named for Tennessee Governor W. G. Blount, who had provided militia under Andrew Jackson to defend the settlers in Alabama during the Creek War of 1813-1814. Some of these men became the first settlers in Blount County.

The first colonists in the county were hardy folks and determined to establish themselves and their families in this fertile area. The first settlement was known as Bear Meat Cabin before becoming present day Blountsville. The Brindlee Mountain Trail ran through Blountsville, from Brown's Creek on the Tennessee River to Tuscaloosa. This primitive road, a main artery connecting the Cherokee and the Choctaw Indian nations, ultimately was absorbed present day US Highway 31.

One of the attractions along the Brindlee Mountain Trail was a set of sulphur springs at what is present-day Blount Springs. Blount Springs eventually grew into a popular summer retreat for relief from summer heat and for the supposed medicinal advantages of the town's sulphur springs.
Blount County is noted for its Covered Bridges, at one time having numerous such structures. Today, only three remain: the Swann Bridge at Cleveland, Horton Mill Bridge between Oneonta and Susan Moore, and Easley Bridge in the Rosa Community. These bridges have been re-furbished by the State and are still open for automobile traffic. The County has a Covered Bridge festival each October to celebrate this part of its heritage.

Principal towns and communities in the county are Oneonta (county seat), Allgood, Altoona, Appalachian, Blountsville, Blount Springs, Brooksville, Cleveland, Hayden, Highland Lake, Locust Fork, Pine Mountain, Remlap, Rosa, Sand Mountain, Susan Moore, Snead and Village Springs. And, yes, "poke salat" grows here prolifically, as both it and kudzu do throughtout the southeastern states.

The principal livelihoods have been agriculture, mining, and timber. Animal life is abundant, with deer, turkey, waterfowl, quail, etc., lately augmented with both western and eastern coyote and armadillos. The county is part of the Warrior River drainage basin, and the Locust Fork tributary of that system offers rafting and canoeing opportunities that match the best in the country. Palisades Park is an 83 acre park featuring picnicking, hiking, rapelling and facilities for seminars and meetings. There are excellent golf courses, Spring Valley Water Beach, and several hunting preserves. Lastly, there are up-to-date medical facilities provided though St. Vincent's Blount, a member of Ascension Health.

For additional information about our county, visit the Encylcopedia of Alabama.

Life is good here.
---
Page last updated JFebruary 14, 2020.
© The Blount County Historical Society, Inc., 2020.
Contact the museum Curator.