Honor Flight 2021...
The Honor Flight departed October 19th and returned safely. The group were welcomed at Baltimore-Washington International airport with a water cannon salute (and again upon our return to Birmingham. The weather was superb, and the boxed meals were very good. The tour guides were outstanding, and everyone thoroughly enjoyed the trip.

We began with the changing of the guard at the Tomb of the Unknowns, and then we moved to the war memorials - World War II, Korean Conflict, the Vietnam War Wall Memorial, and the Iwo Jima Memorial, finishing up with the FDR and MLKJr memorials. The boxed meals were very good, and the support rendered by our veterans' guardians was outstanding. All in all, a wonderful experience for everyone.

Credit for this flight belongs to the businesses and people of Blount County. They generously reached into their pockets, even though the pandemic was playing havoc with everyone s lives. We are blessed with good-hearted people!
–Amy Rhudy, Curator, BCCM
---
Blount County, Our Home...
The towns and communities of our county are Oneonta (county seat), Allgood, Altoona, Appalachian, Blountsville, Blount Springs, Brooksville, Cleveland, Hayden, Highland Lake, Locust Fork, Pine Mountain, Remlap, Rosa, Sand Mountain, Susan Moore, Snead and Village Springs. And, yes, "poke salat" grows here prolifically, along with kudzu throughtout the southern states.

The principal livelihoods have been agriculture, mining, and timber. Animal life is abundant, with deer, turkey, waterfowl, quail, etc., lately augmented with both western and eastern coyote and armadillos. The county is part of the Warrior River drainage basin, and the Locust Fork tributary of that system offers rafting and canoeing opportunities that match the best in the country. Palisades Park is an 83 acre park featuring picnicking, hiking, rapelling and facilities for seminars and meetings. There are excellent golf courses, Spring Valley Water Beach, and several hunting preserves. Lastly, there are up-to-date medical facilities provided though St. Vincent's Blount, a member of Ascension Health.




Our Historical Society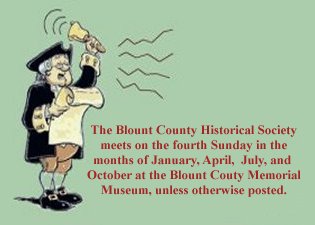 ---

Please Visit and Follow Our Facebook Page
We appreciate your support.
---
Planning a Tour?
The Museum provides guides for touring groups visiting Blount County. Please complete the tour notice form to request a knowledgeable guide.

Whether it's a visit to the covered bridges, Palisades Park, County Caves, or a working farm, we're always pleased to tell about our County.
---
Donate to the Museum
Donations help with the acquisition and publication of family records.